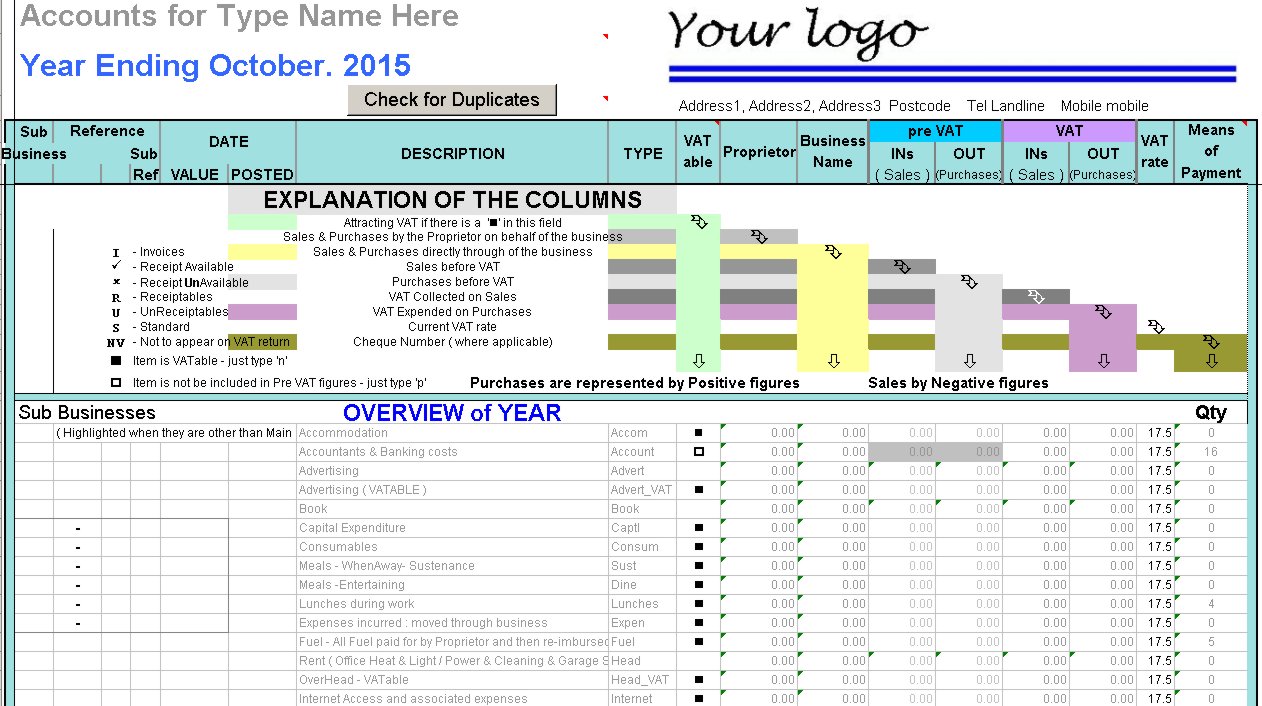 Introduction

Our software keeps things simple, allowing your book-entry process to have great clarity. The software allows you to enter the information once and once only. It is validated as it is entered and immediately processed by the software. You can change the information easily once it has been entered. If you use the services of an accountant then presenting your accounts to them in this format dramatically reduces the amount of work that they have to do. You can either send them the spreadsheet itself, or print it out in a legible printer friendly format to hand it to them in person.
Other packages are 'Complicated and expensive' and have all sorts of things attached that you don't need that just complicate an otherwise simple process of entering your business dealings into a manageable presentation of your accounts. This software has been described as 'Simple and Friendly'.
Can be used by Businesses and Small Companies alike, including Sole Traders and Partnerships, whether you are VAT registered or Not. If you change from one business type to another, the software can change with you.
Some Benefits

Keeps a running yearly total of the year's entries so far.

Handles varying TAX ( VAT ) rates ( for the likes of Electricity and Gas supplies and for overseas sales ). The system also easily translates to other currencies.

As much as possible it Validates each entry as it is entered but importantly doesn't stop you entering something. It immediately highlights the spreadsheet so that you know that there is a problem with the entry. This means that you are immediately alerted to a problem with a particular entry and therefore you can sort it out immediately, sorting it out as it is entered avoids the problem of trying to chase a problem through a huge list of entries.

The software does automatic checking - An item such as SUNDRIES being indicated as subject to VAT on the Overview section of the MainSpreadSheet has to have every entry for SUNDRIES also subject to VAT. ( See below for screenshots of how the software alerts the user to a non-valid entry. )

The software is clean looking, doesn't offend the eye and this reflects in the final output to the printer. The final output ( to the printer ) is legible and easily understood and provides all the necessary information from which your accountant can generate your accounts ( although you could just send them the spreadsheet itself ). Additionally if you have a logo then you can incorporate this onto each of the sheets of the workbook.

The software guides you to put things into quarters that suit your VAT quarters. The software doesn't stop you putting an entry into the incorrect quarter it just guides you by highlighting the date with a mild yellow background. This means that you can enter information in the incorrect quarter but that you are alerted to it and we advise that you make a comment to the effect in the description if you want to retain an item in such a situation. Quarters are a useful manageable unit for most businesses whether the business is VAT registered or Not.

Allows for the attribution of Sub Businesses within your business - if you have more than one income stream then the software allows you to identify these streams of your business.

Creates a unique reference for you to put onto any supporting paperwork such as receipts etc ... The format is 2007Q1-001

Online user guide.

For speed of delivery we give you a link from where you can download the software with the minimum amount of time lost.
If you use the services of an accountant they can very quickly understand your system of book-keeping.
Allows you specify your own Quarters - which might not necessarily line up with the Tax or Fiscal years ( but must line up with your End Of Year ).
Allows you specify your own categories for your entries.
The software has a VAT analysis section allows you to analyse your VAT situation. ( Only necessary you are VAT registered )
We provide 30 day support service and a 7 day money back guarantee, ensuring you have nothing to lose.
FAQ - Frequently Asked Questions
Will I be notified of any revisions to the software.
YES - you will, providing we have your up-to-date email address and your mailbox doesn't return our emails ( for example if the mailbox is full ).
Screenshots

Two sceenshots of the same selection. Notice how obviously an error is presented to you.


The second screenshot shows the software notifying the user of an error in the entry - in this case the presence of a 'n' ( 'n' character ) in the VAT column. This is an immediate error situation which alerts you to correct the error as and when it was made, but most importantly doesn't stop you from continuing. This makes the software very user friendly.
There is more to describe but what we have presented to you on this webpage are the main points of interest.
Pricing as of 2010

Bookkeeping

( Rev 2.06 )

&pound 10
Greg McCormack
o-------------------------------------------------------o
GregMcCormack@Allerton-EPS.co.uk
184 Mather Avenue, Allerton, Liverpool L18 7HD
Website :- http://www.AllertonEPS-Software.co.uk
Landline :- 0151 729 0095
Mobile :- 07944 296136